TRAVELING WITH A BABY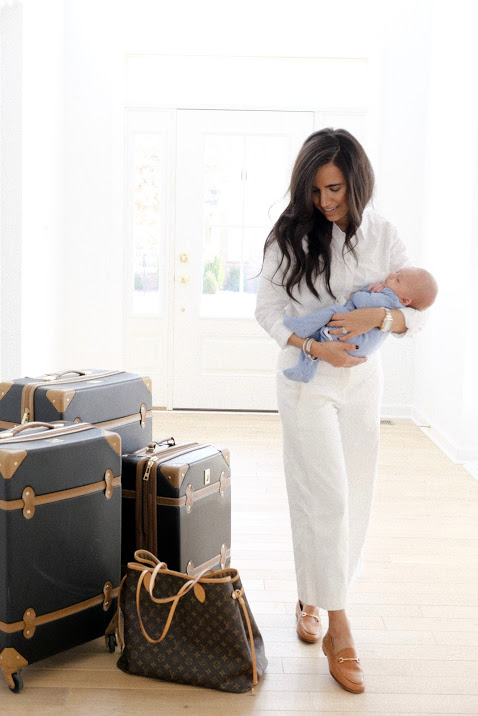 At the beginning of this month we made a trip to Florida in hopes to meet my newest niece Elisa–my brother's daughter. ♡ I was actually pretty nervous about making this trip…how would Michael be on the plane, away from home, away from his normal everyday life…but it was a major success! It actually wasn't bad at all, sure the first three nights, sleep was awful but other than that it was great!
What I packed : Because we were traveling to Florida and staying at my parents house, I was able to use some of their baby stuff..actually a lot of it. So I didn't have to pack nearly as much. But here is the complete list of all the things I used and needed : Dock A Tot, Bassinet, Sleepsacks, Shusher, Pacifiers, Baby Monitor, Bath Flower, Nuna Carseat, Baby Carrier, and Tote Savvy.
How was the plane ride? A: The plane ride was great considering the car-ride to the airport was a little over an hour long. Michael is still getting used to being in his carseat, so it can be a hit or miss. He slept the entire way to the airport then when we got to airport he was wide awake which was nice because by the time we boarded he was sleepy and slept the entire plane ride except for the last 15 minutes. He was fussy but the pacifier was a great help!
How was the taking him to the Beach? A : Winters in Florida are dreamy–easy, breezy, and sunny. We always kept him covered either under an umbrella or in the bassinet. I borrowed my sister's nuna bassinet which was a true luxury to have on the beach, he also slept in that in our hotel room. You can shop for it here and here.
Over all, it was a good trip, Michael was very patient with us and went with the flow. At home we have a daily schedule/routine but on our trip I was very flexible with him, making sure he was always happy, even if that meant extra feedings, shorter nap times, and waking up during the night. :)